Farmers Car Insurance Guide [Data + Expert Review]
UPDATED: Jun 15, 2022
Fact Checked
Free Car Insurance Comparison
Compare Quotes From Top Companies and Save
Secured with SHA-256 Encryption
Daniel Walker
Licensed Insurance Agent
Daniel Walker graduated with a BS in Administrative Management in 2005 and has run his family's insurance agency, FCI Agency, for over 15 years (BBB A+). He is licensed as an insurance agent to write property and casualty insurance, including home, life, auto, umbrella, and dwelling fire insurance. He's also been featured on sites like Reviews.com and Safeco. To ensure our content is accura...
UPDATED: Jun 15, 2022
It's all about you. We want to help you make the right coverage choices.
Advertiser Disclosure: We strive to help you make confident insurance decisions. Comparison shopping should be easy. We partner with top insurance providers. This doesn't influence our content. Our opinions are our own.
Editorial Guidelines: We are a free online resource for anyone interested in learning more about auto insurance. Our goal is to be an objective, third-party resource for everything auto insurance related. We update our site regularly, and all content is reviewed by auto insurance experts.
UPDATED: Jun 15, 2022
It's all about you. We want to help you make the right coverage choices.
Advertiser Disclosure: We strive to help you make confident insurance decisions. Comparison shopping should be easy. We partner with top insurance providers. This doesn't influence our content. Our opinions are our own.
On This Page
UPDATED: Jun 15, 2022
Fact Checked
You know it by its tagline and the dad from Juno. You know it by its commercials, from the strange, sometimes ridiculous claims. Or even Rickie Fowler.
It is Farmers Insurance, a group that has been around for almost a century. It does good work in the community, including disaster relief and education. It is loved by many and disliked among many others, as evidenced by the lawsuits against it.
How much do you know about it, really?
That's what this guide is for. We, here at Insurantly.com, know that selecting the right car insurance company is important to you. It means the difference in rates, customer service, and how easily you can file a claim.
We also know that information on these companies can be tough to find. Financial rating sites often require accounts. Filing a claim often seems shrouded in mystery. And the information on the company's website is probably leaving out a few things.
We understand. We've got you covered.
Here, in this expert review of Farmers, we cover everything you need to know to make a decision about signing up with them. Financial ratings and company culture. Car insurance rates and discounts. How to get a quote and file a claim.
We discuss it all.
Get ready, we're taking you through a tour of Farmers Insurance.
Ready to compare rates? Try our FREE online tool.
Farmers' Rating Agency
If you're looking for a new product or service, you're likely to check out the reviews from consumers and organizations. Why?
You're sinking your hard-earned money into something, so likely you'd like to know if the product or service is worth it.
There is a little different in the process for Farmers. Whereas you might look at online consumer reviews or get word from friends, we look at rating agencies.
These agencies are broad in scope and authorities in their fields. They can be divided into two categories for this section. There are financial rating agencies (A.M. Best, Moody's, S&P) and consumer review rating agencies (BBB, NAIC, Consumer Reports, Consumer Affairs).
Let's dig in.
A.M. Best
Just like you have a credit score, companies have financial ratings. These ratings serve as trust between companies looking to do business with one another. They also help consumers make decisions about companies.
There's little point in signing up for a company that won't be around in a year.
A.M. Best is one of the leading credit rating agencies. Here, we're looking at one of their scores. It is the financial strength rating of Farmers. Farmers gets an A from A.M. Best. What does this mean?
The gist lies in A.M. Best's Financial Strength Rating Guide. An A is assigned to companies "that have, in our opinion, an excellent ability to meet their ongoing insurance obligations."
This means the company has an excellent ability to keep paying out on claims and to provide services in line with their policies.
There are certain things it doesn't include, such as other kinds of risk. These risks include insurance fraud or specific liabilities. Financial strength scores and other financial ratings play a role on an international scale as well.
Better Business Bureau
The Better Business Bureau (BBB) is an organization that attempts to foster trust between businesses and consumers. It does this by applying different ratings to businesses, a practice that is supposed to be objective.
Farmers Insurance Group gets an A+ from the BBB.
The BBB rating is built off numerous factors. These include the type of business, how it handles complaints, and the transparency of its business practices. What it does not take into account are consumer reviews. Those, for Farmers, are a little less glitzy.
Consumers on BBB's website give Farmers Insurance Group 1.5 stars out of 5. This comes from 60 reviews. Many of the most recent complaints have to do with its claims process, which we'll cover later.
Moody's Rating
Moody's is another credit rating agency. It looks at credit risk, such as whether a company having trouble with credit. This can mean not meeting the obligations of a loan or other debt-related situations.
Moody's gives Farmers Insurance Group an A2, but what does this mean?
According to Moody's Rating Scale and Definitions, an A mean that a "company is considered upper-medium grade and subject to low credit risk."
A 2 means they are in the middle of that category.
S&P Rating
Standard and Poor's (S&P) has been around for over 150 years, issuing credit ratings for companies in 28 different countries. You may know them from the S&P 500 Index, which is a stock index that follows the 500 largest companies.
The S&P long-term credit ratings look at three factors. These factors determine, in S&P's view, the level of the company's credit risk.
The likelihood of payment
The nature of the financial obligation
The protection afforded by the financial obligation if bankruptcy were to happen
The S&P rates Farmers Insurance as an A. It writes in its Global Ratings Definition,
"An obligation rated 'A' is somewhat more susceptible to the adverse effects of changes in circumstances and economic conditions than obligations in higher-rated categories. However, the obligor's capacity to meet its financial commitments on the obligation is still strong."
NAIC Complaint Index
The National Association of Insurance Commissioners (NAIC) is an organization that monitors insurance in all 50 states.
One of its features on its website is to catalog all consumer complaints from state departments. They put these into a program and come with a complaint index.
Farmers' index in 2018 was .95. What does this mean?
A complaint index essentially weighs the number of complaints versus the premiums written. Lower is better. Is .95 good or bad? Compared to other companies, it's a medium-high score.
So, now you know the total complaints coming from the state departments. There are other methods of evaluating customer satisfaction as well, including looking at the claims process or overall reviews.
J.D. Power
J.D. Power is a company cited quite a bit in insurance circles.
In addition to its awards for safety and other features, J.D. Power does an annual study about car insurance companies. They look at overall customer satisfaction and specific satisfaction with claims. How does Farmers rank?
In J.D Power's 2018 U.S. Auto Claims Satisfaction Study, Farmers ranked fifth overall for a four out of five satisfaction rating. This study looked at six parts of the claims process, settlement and estimation process.
The only part of the claims process Farmers did less than good was the First Notice of Loss. This is the customer's rating of the initial claim process.
Consumer Reports
Consumer Reports is another customer satisfaction rating company. It rates Farmers Insurance Group as 89 out of 100, which means customers are between very satisfied and completely satisfied. This rating is for customer service.
Farmers scores very good on all, except for Ease of Reaching an Agent. Here, it scores an excellent.
Consumer Affairs
The customers at Consumer Affairs are not as enthusiastic about Farmers as the raters on the other sites. They gave Farmers a 2.4 out of 5, based on 75 ratings. While Consumer Affairs may be a site where people seek to give negative reviews, some may be valid.
It notes that positive reviews are about customer service and the reliability of policies.
The negative? Fees were charged on top of premiums and rates increased year after year.
Compare Quotes From Top Companies and Save
Secured with SHA-256 Encryption
Company History
In 1928, two men had an idea. They saw that rural drivers had fewer challenges than urban. They were less likely to file a claim. But they were still being charged the premiums of urban drivers. Therein, Farmers was born.
Farmers initially focused on rural drivers but soon expanded. It was likely its reputation was bolstered as well by practices during the Great Depression. For instance, because banks were struggling, Farmers paid its claims out in cash.
Today, it is ranked 7th in market share for private passenger auto and 9th in market share for total property casualty.
It is known from its auto insurance commercials where J.K. Simmons, the dad from Juno, talks about unusual, sometimes ridiculous claims.
As the tag line goes, We know a thing or two because we've seen a thing or two.
However, commercials are one thing. What do the employees think, how is it positioned for the future, how many employees approve of the CEO?
We'll get to all that, and more. This is Farmers' history, from market share to Sesame Street.
Farmers' Market Share
In terms of market share, Farmers has consistently ranked in the bottom half of the top 10 companies. This is for both the private passenger auto industry and the general property and casualty insurance industry. So, what are its market shares in both?
The following information comes from the NAIC's annual reports for the property and casualty industries.
In both industries, it is steadily losing market share. This is based on premiums written, meaning that Farmers is simply losing its customers to other companies. Which ones?
There are three companies major companies that have made gains from 2015 to 2018.
Geico: +2 percent
Progressive: +2.2 percent
USAA: +.6 percent
Farmers losing market share is concerning, as some of its customers aren't happy.
We've seen that customers are mostly good with the customer service and the satisfaction with the claims process. It may be that other companies offer better plans or policies, or Farmers has a bad reputation in some areas.
Farmers' Position for the Future
Based off of financial ratings and the customer satisfaction scores in the first section, Farmers' future should be secure.
Even with the lessening market share in the private passenger auto industry and the property and casualty industry, it still is a top 10 company.
That generally means it should be able to turn the floundering market share around. However, it is part of a trend in the past four years where market share has been changing hands.
A closer look at Geico, Progressive, and USAA shows a general increase.
Progressive is the one growing the quickest and seems projected for a higher spot. Geico also has made strong moves in acquiring more market share.
It's an unknown whether Farmers customers are going to Progressive or Geico, but they are going somewhere. A closer look at the rates, claims process, and canceling a policy process may explain why.
FARMERS' Online Presence
Farmers has an online presence at its website Farmers.com. There you can find an agent, get a quote, start the claims process, and dig into the different policy options. You can start the process for roadside assistance as well.
Farmers is active on social media, having an account on three of the most popular sites: Facebook, Instagram, Twitter. Some content it posts are clips of commercials, helpful hints for DIY, and pictures of community service.
It also has a YouTube channel where it posts videos of employees in their day-to-day jobs. It doesn't appear to be active on Snapchat, but the demographic is probably a little young for a property and casualty insurance company.
Farmers' Commercials
If you were to think of any insurance company, what would be the first thing to come to mind? Probably, the funny.
With Farmers, it's likely no different. Insurance companies make their living by presenting fun commercials designed to make us laugh. Why?
Probably because listening to someone drone on about comprehensive insurance for 30 seconds would cause us to tune out. Or change the channel.
Everybody has a mascot, whether CGI or in real-life. Farmers has J.K. Simmons, an actor, and Rickie Fowler, a golfer. Farmers also has a series of commercials about ridiculous claims. It goers with its Hall of Claims.
We've got three commercials for you here, starting with the absurd, then the funny, then the wholesome.
Clowns hit a car:
Ricky Fowler gets tournament-ready:
Farmers in the Community
Farmers is active in the community and has been since nearly its inception. In 1933, it took the unusual step of paying for property damage to customers during a 1933 earthquake in southern California. This, even though comprehensive coverage didn't exist yet.
It's taken major hits from disasters in California, often losing billions of dollars when paying out claims. Still, it continues to fill the needs of the communities, rolling out two mobile disaster response busses to help those in need during wildfires.
Today, it focuses its community service on three areas: disaster resilience, education, and civic engagement.
Farmers' Employees
Now, the big question: What do employees think about Farmers? To get that answer, we'll start by getting a look at the employees themselves.
This data about Farmers comes from Great Place to Work, which is a global authority on workplace culture. All information in this section unless otherwise specified comes from it.
Farmers has a mix of employees from different generations, with millennials the largest group.
Gen X is second, with Baby Boomers last. As there is are differences in the work styles and attitudes of each generation, a balanced ratio can be a key for prolonged success.
This is especially true with the tradition of Farmers and its need to keep up with new trends and technology.
All employees are scattered between different tenure groups, which are spread somewhat evenly.
Newcomers outweigh those with 20 or more years of experience. The largest group are those between two and five years of experience. The smallest group are those between 16 and 20 years of experience.
This spread can be good for keeping company culture but stimulating innovation.
Farmers has received a few awards for workplace culture. Three come from Great Place to Work. One comes from Forbes.
Awards are good. But what do the employees have to say directly about the company?
Very high agreements for all responses involved. That bodes well for Farmers, as employees seem engaged, invested, and positive about their jobs. However, while a Great Place to Work is a great resource, it's just one.
What do employees have to say about Farmers on Payscale and Glassdoor?
Payscale uses big data to help employees and employers come to an agreement about what a position is worth. As an example, the average salary at Farmers is $57,000.
When it comes to Farmers overall, what do the employees say?
They don't speak nearly as highly about Farmers as the ones who responded at Great Place to Work. Now, what about Glassdoor?
Glassdoor is a similar site to Payscale. In addition to salaries, Glassdoor offers options to critique the company and list pros and cons.
Overall, not the most positive. When combing through the reviews, there are a couple of positives and negatives that stand out.
The positives: good work-life balance, great work culture, and good benefits
The negatives: need better work-life balance and upper management has little knowledge of rural markets
However, keep in mind that many people seek out sites like Payscale and Glassdoor for the purpose of giving a negative review. There is still likely truth to the ratings and reviews. But it must be taken with a grain of salt.
Cheap Car Insurance Rates
It's tough knowing how to get the best rate. There are ten major companies and each has its own rates. And what may be mystifying is that you can punch in the same information for all ten and wind up with vastly different rates.
Demographics, driving record, credit history and even the make and model of your car all influence rates, to differing degrees, with each company.
So, what about Farmers?
Here, we breakdown scenarios.
What if you got into an accident?
What if you have a bad credit history?
What if your annual mileage is more than usual?
And we take a look at state rates and how Farmers compares to the other major companies. Kick those tires and start 'er up. It's time to take a spin.
FARMERS Availability and Rates by State
The good news: Farmers is available in all 50 states. This is positive, as you will likely be able to keep your plan if you move across states.
We have data on the average Farmers rates in 30 of them. They come from our partner Quadrant, which is the inside track on the car insurance industry. All raw information about car insurance rates in this guide comes from it.
You can search for your state by typing it into the search bar.
In some states, Farmers average annual premium is much more expensive than the state average. In others, it is much cheaper.
Much more expensive: New Jersey, Colorado, California, Arizona
Much cheaper: Minnesota, North Dakota, Michigan, Iowa
There may be some reasons for this. A state's occupants might tilt the algorithm a little more to the expensive side than another's. There are fights over demographics in every area. And the operating costs of a company might be higher in one state than another.
Comparing the Top 10 Companies by Market Share
Now, how does the average Farmers rate in your state compared to the other companies? All companies may give a little here or there when it comes to rates, meaning an overall expensive company may be cheaper in your area.
You can use the scroll bar at the bottom of the table to see more companies.
Okay, so what are Farmers' overall rates compared to the rest? For this, we took the median annual average for all companies in all states and compared.
Farmers is neither particularly expensive nor inexpensive. It is roughly in the middle.
The two most expensive companies: Liberty Mutual and Allstate.
The four in the middle: Progressive, Farmers, Travelers, and American Family.
The four least expensive: Nationwide, Geico, State Farm, and USAA.
When looking solely at median values, the average for all companies is $3,658.18. Farmers median average annual is about $250 higher at $3,907.99.
Average Farmers Male vs Female Car Insurance Rates
Oftentimes, rates between males and females differ. This is because some insurance companies believe males are more likely to file a claim.
Is this true? One organization's study suggests that this might be the case.
Looking over 30 years worth of data, the Insurance Institute for Highway Safety (IIHS) determined that men are more likely to engage in risky driving. This includes not wearing a seatbelt or driving under the influence.
This all leads to more claims.
Females generally have lower rates than males. The old typically have lower rates than the young. And the married versus the single. The idea is that the less likely you are to file a claim, the lower rate you'll get.
That likelihood is based on risk factors, experience driving, and perceived responsibility, respectively. Is this the case for Farmers?
A married 60-year-old woman has the lowest average rate. A single 17-year-old male has the highest. The difference is about $6,700.
Average Farmers Rates by Make and Model
The make and model of a vehicle matters as well. Often, owning a new car means you'll have higher rates. This happens for a couple of reasons.
Price: newer cars are valued higher. This means that a claim filed for that vehicle will cost the insurance company more than for an older model.
Safety features: newer cars might have more safety features, including electronic stability, ignition interlock, and adaptive headlights
Is this true with Farmers?
For the cars selected, the newer models require car insurance between $40 and $380 more to insure. Of course, if you were to get a new car, its value would decrease quickly. That would drop the insurance rates. So you'd be paying more but probably not for long.
Average Farmers Commute Rates
Some companies vary their rates by commute. Or, more importantly, average mileage. The reason is that the more you drive, the more likely you are to get in an accident, get a ticket, or have a situation where you have to file a claim. Does Farmers do this?
Yes, but not by much. The difference between 6,000 annual miles driven versus 12,000 is just $30.
Average Farmers Coverage Level Rates
Coverage level can play a role in rates. A coverage level might vary for two reasons.
The first is the coverage limits. You'll pay more for $40,000 worth of coverage versus $20,000. The more your company is on the hook for, the more you'll have to pay.
The second is the amount of coverage. If you have collision and comprehensive added to liability, your insurance rates will be higher. The more coverages you have, the higher your rates will be.
How does this vary with Farmers?
There's a $570 difference between a low-level coverage and a high-level. Not a huge difference compared to some other companies.
Average Farmers Credit History Rates
Just like Farmers has a financial strength rating, you have a credit score. And you know your credit score determines more than a few things.
These include everything from the loan on your car, the interest rate on your mortgage, and whether you can rent an apartment.
It also affects your car insurance. But with car insurance companies, it's not your FICO score they use.
Many companies have a secret sauce recipe, according to Consumer Reports. They cherry-pick dozens of things in your credit score and use their own formula to determine your credit score.
While the use of credit scores is becoming prohibited in some states, they are still used widely. Farmer's, like other companies, varies its rates according to consumer credit score. But by how much?
There's over a $1,000 difference between the poor credit history rates and the good credit history rates.
Why do Farmers and other companies use credit histories to set rates?
They believe their models predict risk-taking behavior and as such how likely a person is to file a claim. Some don't buy this. There's even a bill being introduced to ban it nationally.
Farmer's split between the rates for poor and good credit scores isn't large compared to other companies. So there's a positive.
Average Farmers Driving Record Rates
Your driving record plays a role in your car insurance rates. If you get into an accident or have a traffic violation, your rates could jump by the hundreds for thousands for some companies. What are Farmers' rates?
| Clean Record | With 1 Accident | With 1 DUI | With 1 Speeding Ticket |
| --- | --- | --- | --- |
| $3,460.60 | $4,518.73 | $4,718.75 | $4,079.01 |
The differences between the rates for the clean record and those for the infractions is sizeable.
Between a clean record and a speeding ticket: $618
Between a clean record and an accident: $1,058
Between a clean record and a DUI: $1,258
All of these infractions come with additional expenses such as paying the citations, dealing with courts, or hiring lawyers.
Farmers offers an accident-forgiveness coverage in its optional auto insurance features. It writes, "Farmers will forgive one at-fault accident for every three years you drive without one. That means this one accident won't impact your premium."
That would save you hundreds of dollars.
Coverages Offered
If you've ever been in an accident, had just the minimum insurance, you know that liability won't cover all your costs. If there's damage to your vehicle, you need more coverage. If you've been injured and have medical bills, you need even more coverage.
Insurance companies, Farmers included, offer a variety of coverages for just about every situation. But they are expensive.
You might wonder, "How do I get discounts?" And, "What sort of programs do they have?"
This section has all of that and more. Strap on your leather vest and shield. It's time to get protected.
Types of Coverages Offered
Farmers offers 18 different coverages, which were found on its website or by combing through the Internet. Those 18 coverages can be organized into three categories. Those are personal auto coverages, vehicle coverages, and special auto coverages.
There are six personal auto coverages, which are standard coverages that many if not all companies have.
There are seven vehicle coverages, four of which are atypical. Those are new car replacement coverage, customized equipment coverage, original equipment manufacturer coverage, and glass buy-back.
All four protect you from financial losses or give you preference for repairs.
There are five special auto coverages. Loss of use is somewhat atypical.
Farmers, in the case of this coverage, gives you a flat sum to get around while your car is in the shop. The description on the website mentioned taxis and buses as forms of transportation covered in the plan. It is separate from the rental car coverage.
The other four are standard for most companies.
18 in all, five of which are atypical. Farmers also forgives speeding tickets if you've been with the company for at least six months and have a clean record. They are fairly forgiving in terms of driving record, which can be positive.
How to Get a Lower Insurance Rate
It's true that car insurance rates are generally non-negotiable, as they are regulated by the state. However, there are ways to get a lower car insurance rate right off the bat.
This information on lowering rates comes from the Insurance Information Institute. These can be used with Farmers or other companies.
Shop around: The best way to make an informed decision is by checking out the rates from different companies. Each has a different quote process. With Farmers, we'll get to it later in this review. But being informed is the first step.
Watch for hidden fees: If you're talking with an agent, go over the fine print. If there are any hidden fees, that can be a red flag. Some companies will price you something up front, while hitting you with a rate hike months down the line. Ask about this.
Raise your deductible: Your deductible is what you have to pay for your insurance policy kicks in. It's a trade-off. The higher your deductible, the lower your insurance rate will be. But it exposes you to financial risk if there's an accident.
Ask about group insurance: Sometimes your employer will have a group auto-insurance plan that you can be a part of. This can reduce your overall costs, as generally part of the cost of the plan comes from a partnership with the group.
While insurance rates are fixed, it's still good to compare and shop. Ask for recommendations from family and friends as well. And as far as Farmers goes, we have a lot more to cover.
Getting the Best Rate with the Farmers
If you're stuck between two companies, you may look at a factor that can sway your premium by hundreds of dollars. That factor is discounts.
Farmers has 34 discounts, which is one of the higher numbers for insurance companies.
Those discounts are organized into five categories: personal auto discounts, vehicle discounts, driving discounts, policy discounts, and extra discounts. Details are added for each discount in the table.
Personal auto discounts are based on demographics.
Vehicle discounts range from safety features to prohibiting vehicle theft.
Driving discounts come from being a good driver or furthering driver education.
Policy discounts generally come from doing more business with the company.
Extra discounts are often procedural.
If you're able to mix and match, you can save a lot of money with Farmers.
This is especially true if you're adding family members to your plan or if you have a new car with safety technology. Many of these are available with other insurance companies. However, Farmers offers a good number.
It also offers a page where you can search for discounts in your state.
Farmers' Programs
If you're looking to lower your rates, Farmers offers a program where drivers can lower their rates by 15 percent. All just by using an app.
This app is called Signal, and it works to get a picture of your driving behavior. This, in an attempt to improve your driving all while influencing your rates.
Some of these factors are similar to other driving apps from other big-time insurance companies.
Harsh braking incidents
Excessive speeding
Distracted driving
Signal also logs in your travel time and the mileage expense, so that if you're a contractor or self-employed, you can log it. It takes 10 trips before you get your five percent discount and your full discount appears at the next renewal.
Compare Quotes From Top Companies and Save
Secured with SHA-256 Encryption
Canceling Your Policy
Canceling your policy can be a stressful experience. The run-around from the agent, the customer service representatives who can't answer your questions, the procedures you have to go through to get it canceled.
We get it. We got you.
In this section, we'll cover all you need to know about canceling your auto insurance policy. Let's get started.
Cancellation Fee
There is very little information about Farmers' cancellation fees as Farmers does not make public its cancellation policy. As of 2012, however, Farmers didn't have a cancellation fee. This, according to CoverHound.
Is there a refund?
Farmers insurance refunds are generally pro-rated. This means that if you have a six-month plan from January to June and cancel in March, you should receive back the amount for March until June.
However, in some cases in the past, Farmers has been deceptive about refunds.
According to Consumer Watchdog, a group of consumers sued Farmers for not giving refunds. This was six years ago, of course, so things may have changed. But there are reports from 2007 to 2017 of similar behavior.
How to Cancel (Step-by-Step Guide)
So, what do you do with a cancellation policy that is not made public?
We have an answer, of sorts. There are many factors that go into canceling a policy. It, like car insurance, can be confusing.
That's why we've put this guide together. It'll cover everything from planning your policy change to legally what you need to know. And there's a little bit about procedures too.
Decide What Time Is Right for You
The first part of canceling your policy is deciding if you actually want to. And if you do, is it the right time?
There are certain situations where canceling your policy makes sense, both financially and for better ease of mind. You're storing a car for a period of time. You might be moving overseas, have just bought another car, or decided to protect the environment and reduce your carbon emissions.
For whatever reason, you're storing your car. You might think about canceling your policy.
Know, however, that each car registered to drive with the state must have insurance. If you cancel your policy, the insurance company will inform the state and the state will request you to give up your license plate and tags.
One option aside from canceling suspending your insurance. This means you won't have to give up your license and tags. Some companies will allow you to do this. It's in their best interests. They keep you as a customer.
You're moving to another state. If you're moving to another state, you might be tempted to find another policy. It's time, after all, to shed the old company and start-up with a new one.
In this case, you might look up different rates and find one that's suitable for you.
One part that might happen frequently is that your current insurer doesn't have policies in that state or is inactive. You may even be with a mom and pop insurance company. A domestic insurer, one who operates only in the state you live in.
In that case, you'd follow the procedures to cancel your policy (covered in step two) and make sure to avoid a major pitfall (step three).
You've found a better car insurance company. You like its rates better, see that its customer service is friendlier, have found a better agent, and its coverages meet your needs. Enough said.
Cancel Old Policy
When it comes to canceling a policy, every company has its own procedures. However, there are some general steps you can take that are likely standard in the industry.
First step: contacting your agent. When it comes to the insurance company, your agent is the point of contact. You can contact them and get the ball rolling with the cancellation. Often, talking to an agent is all you need. They can walk you through the rest of the process and make it relatively painless.
Second step: drawing up your cancellation document. Many insurance companies will want your request to cancel in writing. Often, this is just a simple document that you can type up with your name, personal information, policy number, and date you want to cancel. You add your signature.
Third step: sending the document in. The next is straightforward. Simply, you send your document in. This is often by fax to a specific number. This is where your agent can help you. They can give you all the information you need to submit or even submit it themselves.
And you're free. But, wait, you shouldn't be. At least not completely.
Avoid These Two Mistakes
Due to the confusing nature of car insurance, it's easy to make mistakes when canceling policies. The two here can lead to lost money and issues with the government. Which no one ever, ever wants.
Don't cancel a policy before having a new one. Unless you're moving to New Hampshire or Virginia, car insurance is a legal requirement wherever you go in the United States. This means that you must have an insurance policy for your car at all times.
If you don't, the government will know.
And then it's back to the taking license plates and tags away. You might even be subject to fines. And if you get into an accident without insurance, you're facing arrest and possibly being labeled a high-risk driver.
Make sure you have a new policy in place before starting a new one. This keeps you out of legal trouble and protects you financially.
Don't just stop paying. It's easy to think that if you stop paying on a policy that it'll be canceled. That may be true in some cases but you'll likely be charged for the grace period. This is the time period after you stop paying your bill before the plan is canceled.
There are also horror stories of customers that stopped paying or canceled outright and still were charged months down the road. It's better to be firm about it and followed procedures and give the company no legal reason to keep it going.
Contact Necessary Parties
Once you cancel your plan or change insurance plans, you'll need to contact any relevant parties.
This includes the state Department of Motor Vehicles, any person that has leased the car to you (or a loan for you to buy), and your bank to make sure it doesn't send payments.
After that, you're good to go.
When can I cancel?
Generally, anytime. Some companies may charge an early cancellation fee, however, and companies may have different refund practices. Check your policy fine print to be sure.
How to Make a Claim
Making a claim can be stressful. The accident itself plus dealing with the company can cause headaches. Then there is the issue of the claim being approved. We know it's a difficult time. We're here to make it a little easier.
In this section, we walk you through the process of filing a claim with Farmers. Get your hard hat ready. We're going to work.
Process of Making a Claim
The first part of the situation is actually making the claim. Fortunately, Farmers makes it easy.
Get Information After an Accident
The first part of making a claim is gathering all the information about the incident.
If it's an accident, you'll want to get the other person's contact information, along with their insurance information. Get any police reports, witness accounts, and other factors that'll bolster your claim.
Contact Farmers by Phone or Online
Next, contact Farmers to start the claims process. You can do this in three ways: by phone, through its website, and through its mobile app.
Phone numbers:
Claims phone number: 1-800-435-7764
For español: 1-877-732-5266
For the hearing impaired: 1-888-891-1660
Website: Farmers Claim Services
Mobile app: available at the iOS store and Google Play.
Once you do that, you'll start filing your claim.
Give All the Details About the Accident
You'll want to give all the details you can about the accident. You especially want to give them the contact information of the other driver, their insurance information, and contact information for any witnesses.
In addition, you may be asked to submit photo evidence of the accident. This may be through the initial steps in the app or the website. Or you might be asked to submit it later if you're talking to someone over the phone.
After this, it's the waiting game.
Be Connected to a Farmers-affiliated Auto Shop
If your claim is approved, you may be connected with a Farmers-affiliated auto shop for repairs. But that's if you're approved. Is that a problem with Farmers?
Premiums Written
The first step to determining if your claim will be approved is figuring out how many premiums Farmers writes. In other words, how many customers do they have? Thankfully, the National Association of Insurance Commissioners has us covered.
We took a look at its data for the years between 2015 and 2018 to determine premiums written. Farmers' customer base has grown, though not by much.
Farmers has a bigger percentage growth in its total lines than just with private passenger auto. As we saw earlier, this 5.11 percent growth was not enough to keep it from losing market share.
Overall, it has 10,500,000 customers in private passenger auto. Now, how does this impact the claims process?
Loss Ratio
Premiums written is one step to figuring out if your claim will be approved. The second step is looking at the number of claims that actually are being approved. This means taking a look at Farmers' loss ratios.
What is a loss ratio? It's a number that shows the ratio claims that are being approved to the total premiums written. Within a loss ratio, there are two boundaries and a sweet spot.
Anything over 1: the company is losing money
Anything beneath .5: the company might not be paying out on claims
Anything between .6 and .8: the sweet spot
This information, again, comes from the NAIC for the years 2015 to 2018.
Farmers loss ratio looks healthy. It's not losing too much money paying out on claims and doesn't appear to be denying far too many of them.
Why was my claim denied?
However, what if your claim was denied? You might be wondering why. There are a number of reasons. Here are three.
Exhausted policy limits. If you have a $50,000 collision policy and have $50,001 in damage, the dollar is on you.
Broken laws. If you were found to have broken the law during the accident, your claim can be denied.
Policy coverages. If you were hit by an uninsured motorist and had neither uninsured motorist or collision coverage, your claim may be denied.
There are others as well. Most importantly, make sure you're educated about your policy. If you don't like it, you can always find another.
How to Get a Quote Online
Getting a quote should be easy. After all, companies want you as their customer. But how easy is it Farmers?
Here, we take you step by step through the process, complete with screenshots. Our hypothetical man's name is John Salt. And he drives an Audi.
Step #1 Go to the Farmer's Homepage
Farmers' home page is www.farmers.com. It'll pull up this page when it loads.
Step #2 Click on the Auto Quote Box
Click on the auto button under Get a Quote on the side. Enter your zip code into the box and click the red button Get a Quote.
Step #3 Enter in Your Basic Information
It'll pull up this page. You'll enter your information into these boxes. If you need help, you can always call the number to the right: 1-800-206-9469.
Step #4 Enter in Your Vehicle Information
Next, use the pull-down menus to put in your vehicle information. You can also enter your VIN number if you want the process to go quicker.
It'll give you your quote number at this point and lead to some various links like Terms of Use and Contact Us.
Step #5 Add Demographic Information
You can put in your demographic information here. First, is occupation. Your vehicle is added to the right. It'll also give you the option of saving the quote and finishing later.
Second, select your marital status.
Step #6 Select Your Prior Insurance Company
Farmers wants your prior insurance company here. Type it in and select from the pull-down menu.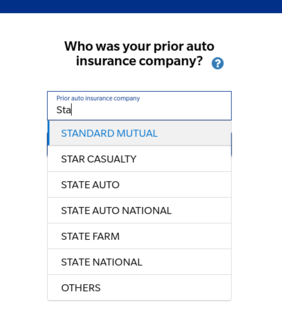 Step #7 Enter in Additional Personal Details
Farmers wants additional personal details. As it writes in the fine print below, it is gathering the information so they can reach you "to provide helpful information about our products and services." Your social security number is optional.

Step #8 Enter in any Accidents or Violations
Next, input any accidents or violations. You can input the dates as well.
Step #9 Complete the Rideshare Admission Question
Many insurance companies have higher rates or optional coverages for rideshare drivers. Input the yes or no.
Step #10 View Your Results
Then, you have your quote! It'll give you the premium costs for all the major coverages and some of the smaller ones as well. It'll also show you the discounts you've qualified for.
The middle pull-down menus are for coverage limits. You can adjust them to whatever you like.
Compare Quotes From Top Companies and Save
Secured with SHA-256 Encryption
Design of Website and App
Most companies have digital presences. Farmers is no exception. Like some other major insurance companies, Farmers has three major options for consumers.
The first is its website. The last two are its two apps, one for regular consumers and one for its signal program.
In this section, we'll cover all three, from their designs to how easy they are to navigate.
We're in the home stretch. Let's take a tour of Farmers' digital options.
Website
If you go to the Farmers website, you'll load this page.
You'll have options to check out insurance, get a quote, find an agent, go to claims, to pay your bill. It'll also pull up a quick link to finding an agent or calling a phone number for a quote.
Overall, it's very clean to look at, with a mixture of soft and bold colors. The clothesline is a nice touch, as it simulates real people who are Farmers customers. And, of course, there's J.K. Simmons, the Farmers guy.
Once you click on insurance, it'll pull down this menu.
You'll have options for auto, home, life, and more. Farmers, like other property-casualty companies, offers likely a near-complete set of insurance packages to appeal to a broad audience. You can even get motorcycle or business insurance.
When you click on auto, it pulls up this page.
A bunch of golfers loading a bag into a car. It has a tagline for its auto coverage, which is "Personalized coverage. Personalized service."
How easy can you find answers?
You can find answers quickly using the magnifying glass near the Log In button. It'll open up a window that'll take you to the search page.
You can use it to search for more detailed and harder to find information. A search of auto insurance, for instance, pulls up from pages like Car Insurance FAQs to Seamless Protection for Rideshare Drivers.
Although they don't appear to be easily found on its main page, Farmers does a number of content-related articles. Many of these are Q&As, like What is an Auto Insurance Deductible? and What Factors Impact the Cost of My Car Insurance?.
Is the design a plus or minus?
The design is passable. Farmers' main selling points are easy to find. If you're looking to get a quote, find out more about insurances, or do more customer-oriented activities like filing a claim, the navigation is straightforward.
The process to get a quote is a little more lengthy than some other companies.
The colors are pleasing, with just gray, reds, and blues. It's somewhat bare-bones compared to other websites. As in, there's not much going on. But that can work well for its intended purpose of getting people signed up for car insurance.
Farmers Insurance App
Mobile car insurance apps are becoming more popular, as a convenient way to pay bills, file a claim, even get roadside assistance.
Farmers app is fairly popular with a 4.8 rating out of 5 on 3,500 reviews in iOS. On Google Play (Android), the rating is similar, with nearly 3,900 reviews and over 100,000 downloads.
How easily can you manage your account using just the app?
The app has many features. As it writes on its description for the iOS page, "Here's what you can do:
Review your bills, make payments and manage payment methods.
Access ID cards for your auto and home policies
View policy documents for your Farmers coverage.
Start a claim right from your phone — and track its status.
Request roadside assistance for help like towing, changing a tire or charging a battery.
Get a fast quote for Auto, home, condo and renters coverage.
Find contact information for your agent."
Farmers has released a video about it as well.
Is the design a plus or minus?
The designs for the iOS app appears easy to navigate and intuitive.
ISUx2 gives a 5-star review and writes,
"This app loads quickly, gives all the necessary information required in a near or full-blown emergency, and allows for the status of account information. That's all any app should be for. Quick, easy, oversight of information."
The design for Google Play seems similar to iOS.
Overall, the colors are pleasing, with numerous options that are easy to navigate to.
kim Nichols gives a 5-start review and writes, "I just started, but it was easy to open, and navigate. It is so easy to see all I need to in each category. Thank you for telling me about it."
Signal App by Farmers
Farmers' safe driving app, which leads to discounts, has been covered slightly already. Here, we'll cover what consumers have to say about it, through their own words. This includes if there are any problems.
What do drivers think about the Signal App?
Signal gets a 4.8 rating out of 5 based on 4,600 reviews on iOS.
While the overall reviews are positive, some of the recent reviews aren't.
From jjstratton: "inquired through their app feedback service and was surprised to learn they count Bluetooth usage against you for the purpose of hands-free calls. This seems really flawed as a majority of folks connect their iPhones via Bluetooth…"
From Jennytisch: "Farmers has become very clear to me to protect their own interest on the interest of the ones who make their paychecks."
Signal gets a 4.3 out of 5 rating based on 902 reviews on Google Play.
Some of its recent reviewers are not kind to it as well.
From Alfred Anheier: "The real beef is in the programming assumptions built in: there are 5 metrics, phone use, speed, excessive braking, mileage, and time of day. Only 3 are controlled by me."
From James Kelley: "Needs work. About 6 hours of driving over the weekend resulted in over 4GB of data transmitted to Farmers and blew out the data allowance on my cell phone plan."
Overall, both Signal apps have positive reviews overall, but some negative ones recently.
Pros and Cons
The Bottom Line
Farmers, according to this research, is a little bit like a cheese quesadilla. It's strong, will get you through the day, full of some nutrition. But it's not spectacular or going to wow you.
It has very good customer service but not great. It has good rates, but there are some higher and some lower. It has a good amount of discounts but no the most.
It has good financial ratings, so it'll be around. But it doesn't match Geico, State Farm, and others in the overall ratings.
It's gaining in premium written, but it's losing market share.
So there's a lot of good with Farmers but there's nothing that seems to stand out about it. It's solid, but there's little that will amaze you. At least from this research. In the end, it seems to be a middle-of-the-road option. The white bread. But overall, still good.
Compare Quotes From Top Companies and Save
Secured with SHA-256 Encryption
Company Car Insurance FAQs
Who Owns Farmers Insurance?
Zurich Insurance Group, based in Switzerland, owns Farmers and has since 1998. As of 2017, it is the 91st largest company in the world, with 54,000 employees in over 170 countries. And according to its annual report in 2012, its shareholders' equity was nearly $35 billion.
Where Is Farmers Insurance's Headquarters?
Farmers Insurance's Headquarters are at 6301 Owensmouth Avenue, Woodland Hills, California 91367. The original office was established in 1928 at the start of the business. They had just four employees at the time. They were the two founders, a secretary, and a sales manager.
Are Farmers Insurance Ads True?
Farmers uses outlandish and ridiculous situations in its commercials sometimes, strange circumstances in which cars and vehicles are damaged. It backs this up with its Hall of Claims on its website. To answer the question: according to the site, yes, they are true.
What Is Farmers Insurance Exchange?
With Farmers, there is the parent company in Zurich, Farmers Insurance Group, and the Exchanges. Farmers Insurance Group provides underwriting services to the Exchanges, which is owned by policyholders If you get insurance, it's through the Exchanges. However, they are interrelated.
Will Farmers Insurance Cut Me a Check?
If your claim is successful, this is a possible method of payment. The process can last between 30 and 90 days, though it is subject to state and local laws. Farmers notes on it auto claims page that your rights in your policy are not waived when you cash the check.
Can You Switch Farmers Insurance Agents?
Yes. As listed on its Agents FAQs page, you can switch agents by two methods. You can contact Farmers and request a new agent. They'll help you find a new one based on your geographical location. Or you can reach out to the agent you want and they'll process what you need.
What Is Farmers Insurance's Slogan?
"We know a thing or two because we've seen a thing or two."
What Do Farmers Insurance Agents Make?
According to Payscale, the average pay for Farmers insurance agents is $13 per hour. The total pay is between $22,400 and $50,000. That is on par with most insurance companies. The exceptions are Geico, AAA, and USAA, all of which pay more.
Where Is Farmers Insurance Musem?
It's not a museum exactly and it's certainly not a brick and mortar building. But Farmers has a quasi-museum called the Hall of Claims. There you can explore six ridiculous or out-of-the-ordinary situations where a claim was filed.
There! You've made it! You should have all the information you need to make a decision about Farmers insurance. Clear eyes, full hearts. Happy driving.
Ready to compare rates? Try our FREE online tool.
Compare Quotes From Top Companies and Save
Secured with SHA-256 Encryption